Drums can date back to primitive times. With the advance of society, drums are widely used in folk instrumental ensemble, various traditional operas, dancing and singing, festival occasions and even labor competitions. In Xiangxiang, there is also a well-known drum--Jinshi Shiba drum, which has a history of more than one hundred years.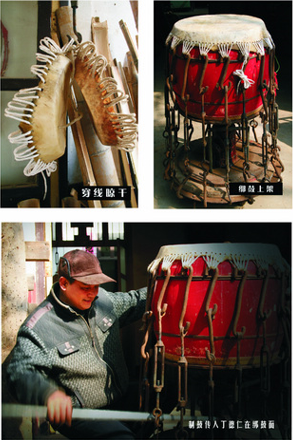 Shiba drum originated in the late Qing Dynasty when Chinese drum instruments flourished. It is mainly used in Huagu Opera, religions, Lantern Festival (January 15th of the lunar calendar) and various sacrificial occasions. There are five kinds of Shiba drums, which are made after many procedures including woodcraft, skin making, painting and so on.
The most special one is making drum skin, which is made of high-quality cowhide with unique medicinal liquid and techniques.
Then the skin is polished and pulled to become tight so as to produce clear and pleasant sounds. Made by pure hands, the drum looks simple and antique, but it can create beautiful timbres and penetrating sounds. What's more, it can stand wear and tear for it can repel moisture. The drums sell well in many provinces in China.
Now, Ding Deren and Xie Mingguang are representives of the drum making masters. Particularly, the widely known Ding family drums have been passed down through five generations.
The single-sided drums used in dragon boat races, since the bottom is immersed in the water, can not survive for long. Accordingly, DingDeren creatively added the waterproof layer at its bottom, which not only solves the problem but also keeps its good look.
Through repeated practices, Ding also summarized the standards of cowhide and board, cowhide soaking formula, the skill of making drum skin and the design of patterns on the drum surface.
He also introduced that the secret of making Jinshi Shiba drum lies in the hair-like seams left,bamboo reinforcement and then wood glue filling the seams.More importantly, 90% of the nails should been made by bamboo because they won't rust.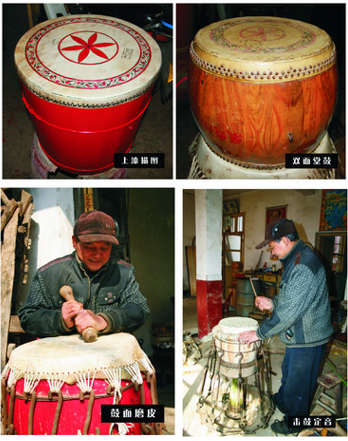 Shiba drum is the miracle amon ghand-made drums. The big drum with the diameter of 1.8 meters at Xiannv Peak, the peak of Shaoshan Mountain, produces huge and grave sounds. The inheritance of the drum making technique would enrich people's cultural life and enhance their cultural identity.
What's more, it can also arouse the whole nation's awareness of cultural protection, which is good for the new rural construction, social harmony and even sustainable development.
In 2010, it was identified in the protection list of the second batch of Xiangtan's intangible cultural heritages.